If I had a dime for every time a student told me they needed a break after their spring break, I would be, ok not rich…more financially secure.
Whether your Spring Break (SB) involves traveling to party heartily, providing services to poor communities in another country or catching up on your thesis writing, here are some planning tips: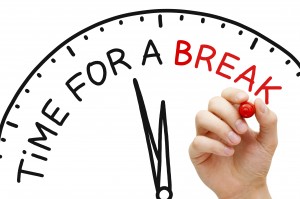 Have a "Must Do" list for SB? Cut it in half the day before your SB starts.
Students often over estimate how much they can accomplish during a break. Don't forget that your family, friends, March Madness, etc. are likely to distract you, which is a good thing. Accomplishing realistic goals will give you a confidence boost. And, you can always add goals once you finish your revised list….or not.
Plan to enjoy at least one full day with NO advanced plans or travel (if you go traveled somewhere).
Just wake up and do whatever you like (And, for those of you who must, that may include planning what to do the rest of that day…only if you must.). Having a free day in your schedule can be solely for fun and relaxation and/or a cushion in case you don't complete your goals up to that point.
I recommend a "free from planning" day that is a little over half way into your break, e.g., day 4 or 5 of a 7 day break. With some accomplishments under you belt, you should be able to relax, and the recharge will help you tackle the rest of your goals for the end of your break.
Having a fun-filled break? Do the opposite. Take a day to be more serious or reflective or to change up the routine. You might even draft some really creative or interesting goals or plans for later consideration.
Plan to do something fun that you haven't done in awhile, even if it's just going to a movie or for a walk or to an amusement park. Changes in your regular routine will help you shift gears and help your break be a real break.
Before your SB starts, set aside some time in the early part of the week after SB to set goals and make plans for the rest of your academic year. Doing this after SB and not too far into the rest of the year will help you take advantage of your renewed SB energy.
What are your tips for making a break of your break?