Academics/Training/Service
Academic and other training provides the knowledge, skills and networks that public health professionals, researchers and academics use to improve public health. Whether you would like to learn a little more about specific public health concepts, develop advanced analytical, managerial or research skills or complement another health professional degree, there is a degree or certificate for you.
Topics Below
Types of Degree Programs: Undergraduate | Master's | Dual/Joint | Doctorate
Other Types of Training (Service):
Certificate | Post-Baccalaureate | Post-Doctorate | Internships/Practica and Externships | Summer Programs | Volunteer/Service | Other Learning Opps (Public and Private)
Public Health Career Areas (Disciplines) 

Types of Degree Programs
Undergraduate
Undergraduate degree programs prepare students for entry-level careers in various areas of public health and should provide a solid academic foundation for graduate study. Some undergraduate  programs offer a general education in public health, while others allow students to focus on specific areas of public health, such as biostatistics or nutrition.
The Association of Schools of Public Health presents the following career areas as possible foci for these (and all levels of) programs. Discipline offerings vary by school or program.
Master's
Master's degrees equip students with advanced knowledge and enhanced skills for the practice of public health, including some analytical and teaching opportunities. Master's degrees typically focus on one public health discipline (See the list under undergraduate degrees.), though many require some exposure to the core public health disciplines. Programs typically last 1-2 years and may require an internship/practice experiences.
Dual/Joint
A dual or joint degree is a great option for students seeking to train in complementary fields. Dual-degrees are typically completed in less time than it would take to complete each degree separately and are one way for graduates to expand their career options. Students seeking these options may have to apply to both programs separately.
Some examples of dual or joint degrees:
Master of Public Health/Juris Doctorate – MPH/JD
Master of Science in Public Health/Master of Social Work – MSPH/MSW
Medical Doctor/Doctor of Philosoph – MD/PhD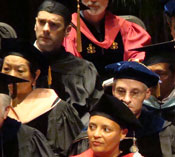 Doctorate
A doctoral degree in public health (e.g,. PhD, DrPH, ScD) trains students in the highest level of research and analytical knowledge and skills. Students seeking academic positions or who want to lead major research projects or organizations should consider these degrees.
Other Types of Training/Service
Certificate Programs
Certificate programs are sets of academic courses that provide some academic instruction and training that does not conclude in a degree. Certificate students gain knowledge and skills that help them enhance their degree applications or explore opportunities. Just a few examples include certificates in global health, maternal and child health, health care management and disaster preparedness.
Post-Baccalaureate Programs
Post-baccalaureate programs are designed to help graduates who who have earned an undergraduate degree strengthen their academic record or add training or knowledge required for advanced degrees. Post-bac programs can be great opportunities for students who are not trained in public health and want to pursue a public health career.
Post-doctorate Programs
Post-doc programs allow graduates of doctoral programs to further enhance their knowledge and skills. Many post-docs transform their dissertation research into publications, teach and in other ways apply what they have learned and enhance their resumes.
Internships/Practica and Externships
Internships and externships (typically shorter and less extensive then internships) offer students an opportunity to engage with professionals in their work environments. Students apply lessons learned, build networks and contribute to public health organizations. Whether these opportunities are paid or unpaid, part of a degree program or independent or for course credit or not, students gain valuable insights into career possibilities.
Summer Programs
Summer programs vary in length from a few days to several weeks. Their purposes also range from intensive academic instruction and preparation to experiences that focus on broad concepts, skill development and activities. Most programs aim to help student explore careers, prepare for advanced academic training and build professional networks. An additional benefit can be the personal connections participants make with fellow students.
Volunteer/Service Activities
Volunteer/service activities can be a great opportunity for personal or professional networking, skill and knowledge development and, of course, helping people. Volunteers may work in all types of public health organizations, including government agencies, insurance companies, universities, not-for-profit organizations, foundations and much more. You can make a difference and learn more about public health issues and careers.
Other Learning Opportunities
Many, many organizations both public and private offer many, many opportunities for people to learn about public health issues, policies, opportunities, etc. Whether via a podcast, website or in-person workshop, there are many, many more ways for you to explore public health!
Public Health Career Areas
The Association of Schools of Public Health presents the following career areas as possible foci for all of the academic and/or training programs. Discipline offerings vary by school, program or organization.